http://agbreview.com/hostgator-review
HostGator recently launched their new, premium hosting called HostGator WordPress Cloud.
After testing their service for 9+ months, we can safely recommend them as an alternative for the regular, shared hosting option HostGator offers.
HostGator WordPress Cloud is also ranked #1st in our overall top rated hosts list.
Differences between HostGator Shared and HostGator WordPress Cloud Hosting:
HostGator Shared (old)
Cost: $3.95/mo
Uptime: 99.99%
Speed: 814ms
HostGator Cloud (new) – recommended
Cost: $2.99/mo (ability to pay monthly)
Uptime: 99.99%
Speed: 521ms
Our read our review on HostGator Cloud
---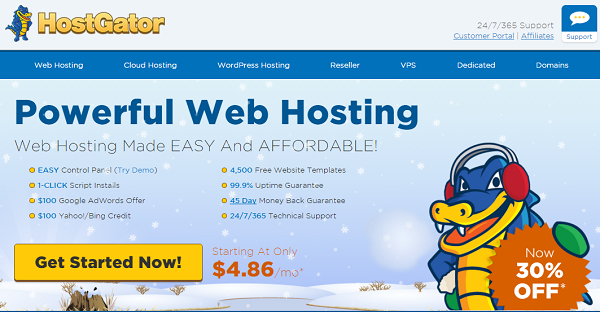 Now back to HostGator Shared Hosting review.
If there's one name you'd recognize on our full list of web hosts, it's HostGator.
You might not be sure why you know it exactly. But you do.
It's probably because the Houston-based HostGator is one of the largest web hosts on the planet with over 9 million (!) domain names hosted. They boast partnerships with tiny tech titans Cisco and Linux (ever heard of 'em?).
HostGator has been around since 2002, originally founded by Brent Oxley before being acquired a decade later by Endurance International Group (EIG) who also owns Bluehost, Justhost, iPage, Fatcow, among others. They have two U.S. based data centers in Houston and Provo, Utah.
So what, exactly, is responsible for HostGator's massive success?
Impressive uptime? Fantastic customer support? Or a HUGE marketing budget?
We wanted to find out for ourselves and provide an honest, unbiased report that sheds light on their performance (not their advertising claims).
In June of 2015, we set up a WordPress website on their 'Hatchling' shared plan.
Since then, we've monitored their performance statistics including uptime and speedto share the results with you.
Here's what we found.
PROS of using HostGator (shared) Hosting
HostGator has a few noble qualities, including a longer-than-average money back guarantee and an easy-to-use interface for beginners. Here's a quick summary.
1. Uptime? Very Good – 99.99%
A website's only useful if it's up-and-running, stable and consistent.
Luckily, HostGator was able to hit 99.99% uptime (.20% better than industry average) over the past year.
When we first connected our website to HostGator, their up times were horrible, but they have been improving ever since.
2016:
June average uptime: 99.97%
July average uptime: 100%
August average uptime: 99.98%
September average uptime: 99.97%
October average uptime: 99.98%
November average uptime: 100%
December average uptime: 100%
2017:
January average uptime: 100%
February average uptime: 99.98%
March average uptime: 99.98%
April average uptime: 99.99%
May average uptime: 99.99%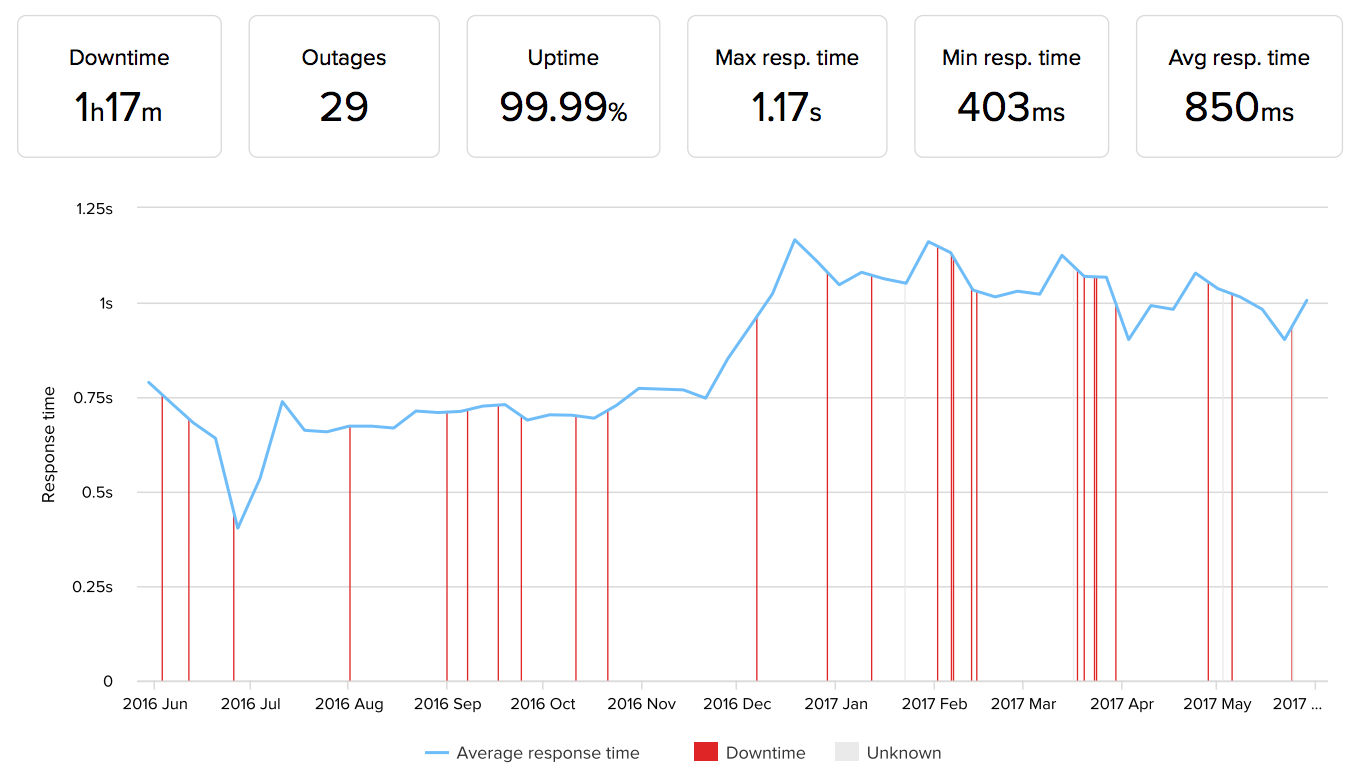 HostGator uptime is getting better, but it's still below average. Here's raw data.
2. Good Support (at least, we think so…)
HostGator conveniently offers 24/7/365 support through the phone, live chat, and email.
After a 16 minute delay, their representative was knowledgeable and friendly enough in our experience. We weren't blown away by the level of service but didn't walk away with a bad taste in our mouth either.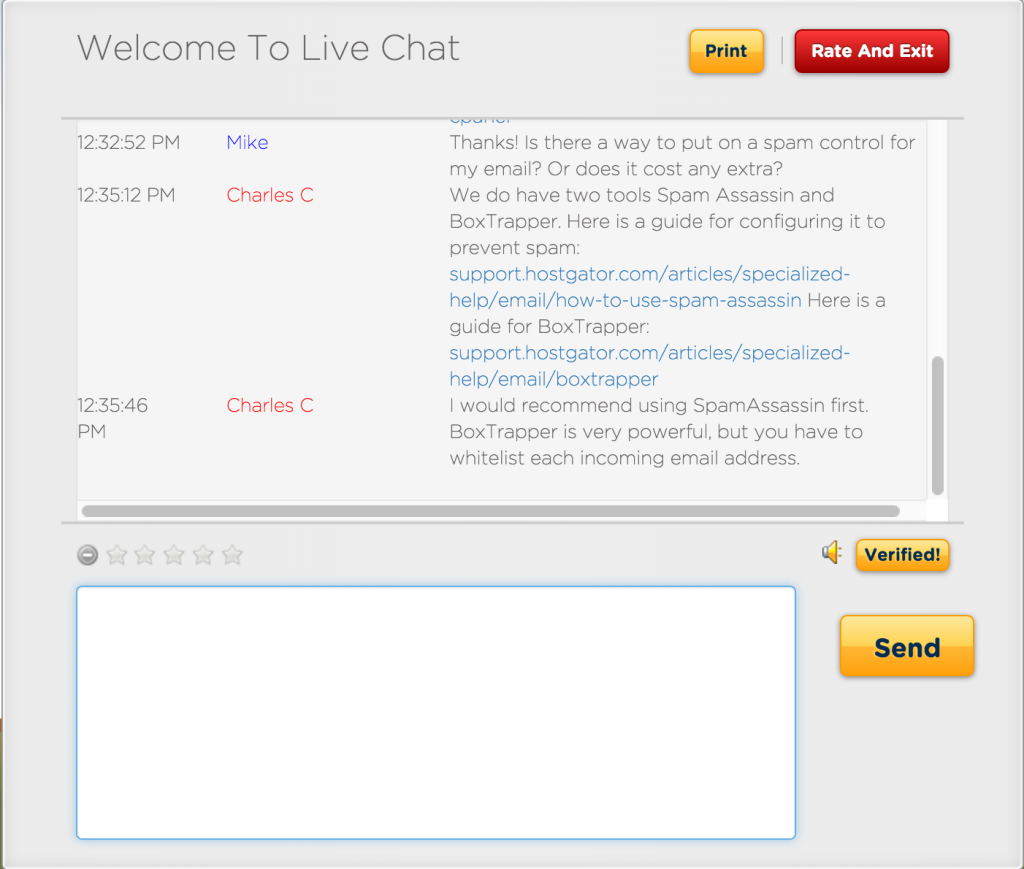 3. 45-Day Money Back Guarantee
Most of the web hosts we've reviewed offer a standard 30-day money back guarantee. HostGator bumps theirs up to 45 days, giving you an extra two weeks or so to test drive their offerings before getting locked into a one-to-three year term.
4. Enhanced Security and Free Migration
HostGator will happily assist you with relocating an existing website over to their services for free.
And if you're thinking about shelling out the big bucks (JK, they're not that expensive) for any of their premium plans, you'll also enjoy automated daily database backups, automatic malware removal and a free SSL certificate for processing website transactions.
5. Very User Friendly for Beginners
HostGator is very user-friendly for beginners (which is nice, considering the utilitarian interfaces of some web hosts read like a foreign language).
They also have endless tutorials, FAQ pages, and documents to help you at every turn, with detailed explanations and simple step-by-step walkthroughs.
CONS of using HostGator (shared) Hosting:
HostGator has a few redeeming qualities. However, they fall a bit short in some of the most important categories (like uptime and speed). Here's how they fared in our tests.
1. Not Fast Enough. Just Below Average…
HostGator followed up their lackluster uptime display with equally mediocre page loading times.
Over the last twelve months, their average was 814ms, which is a bit (30%) faster than the average 1059ms.
That's ain't good. Especially when speed is factored into Google's organic search (SEO) ranking algorithm and has been proven to hurt sales with each delayed second.
Website load time is more important than ever: not only does This is why site load time is one of our core metrics for ranking web hosts we review.
Again, not a great showing considering there are smaller web hosts will less experience delivering FAR better page loading times.
Last 12 month average load time (2016 – 2017)
2016:
June average speed: 653ms
July average speed: 622ms
August average speed: 678ms
September average speed: 714ms
October average speed: 707ms
November average speed: 761ms
December average speed: 1,045ms
2017:
January average speed: 1,060ms
February average speed: 1,082ms
March average speed: 1,064ms
April average speed: 995ms
May average speed: 987ms
2. Extra Fee for 'True' Backups
HostGator advertises 'instant backups' one of their differentiating features on the website.
Trouble is, they're referring to manual ones which are available by default in cPanel.
Want automated backups to simplify their life? It'll set you back an extra $15.95 annually.
3. Standard Pricing 'Tricks'
Web hosting pricing looks great from afar, but far from good up close.
The first trick in the book is to only offer their lowest rates for the longest terms – meaning you'll have to sign up for at least three years if you want the great 'promotion pricing' reflected on their website. Otherwise, if you want a true monthly option or even a twelve-month plan, your monthly rate will jump over 50-150%.
Speaking of 'promotion pricing', the second trick in the book is to offer this low advertised rate for your initial term ONLY. That means once your plan does expire and it's time to renew, the rates will jump back up to their 'normal' pricing (which again, could be more than double the original price).
In that light, HostGator doesn't look like such a good deal after all.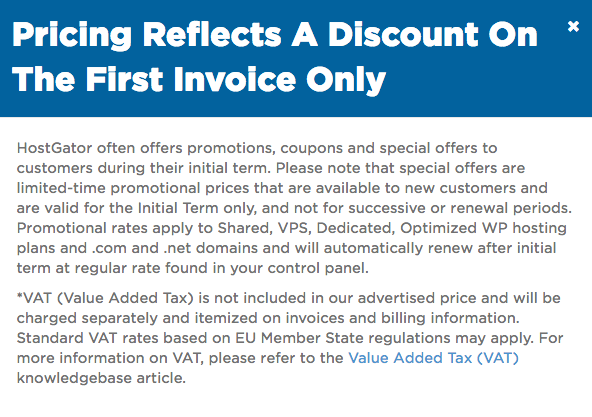 Overview on HostGator Shared Hosting Plans
Here's a quick overview of the various plans offered by HostGator: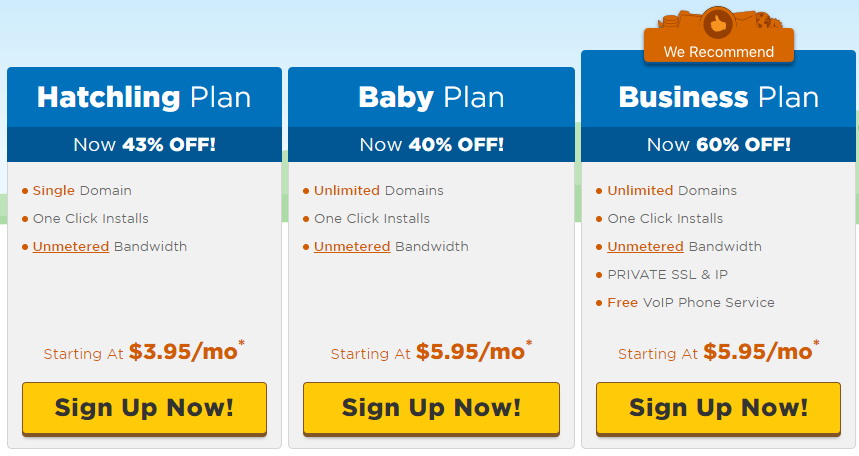 Shared Hosting: They have three shared hosting plans:
Hatchling plan: This plan starts at $3.95 per month. It supports 1 domain name, unlimited disk space and storage and unlimited subdomains.
Baby plan: This plan starts at $5.95 per month. It supports unlimited storage, bandwidth and domain names.
Business plan: This plan starts at $5.95 per month. It supports unlimited storage, bandwidth and domain names. It comes with a free dedicated IP, SSL and toll-free number.
Ease of Signup: Easy signup process.
Payment Methods: Credit Card, PayPal.
Hidden Fees and Clauses: You cannot use more than 25 percent of their system resources for longer than 90 seconds at a time. Shared and reseller hosting accounts cannot have more than 250,000 inodes. Accounts with over 100,000 inodes are automatically removed from their backup system.
Upsells: Lots of upsells.
Account Activation: It can take up to 24 – 48 hours for accounts to be fully activated.
Control Panel and Dashboard Experience: cPanel.
Installation of Apps and CMSs (WordPress, Joomla, etc.): They make it easy to install popular apps and CMSs in a few steps using QuickInstall.
Do we recommend HostGator Shared?
Unfortunately, no.
HostGator is one of the biggest, household web hosting names for a reason. But their regular, shared hosting option is just great for someone who is starting out – it's not for people who are truly serious about their website.
While HostGator Shared hosting average uptime is good – 99.99%, their speed isn't.
They're an average host. And there are far better options for your money.
Having said, that they seemed to have improved their services drastically since May/June 2016.
Refer to the prototype article here : What's up with HostGator? People Love/Hate it. Why?